A Better Life Awaits You...
"I Can Help You Enjoy Life Without Alcohol And Become The Happy And Fit Person You Deserve To Be."
-Chris Scott, Author of Drinking Sucks!
& Founder of Fit Recovery
Have You Tried Everything You Can Find To
Stop Thinking About Drinking?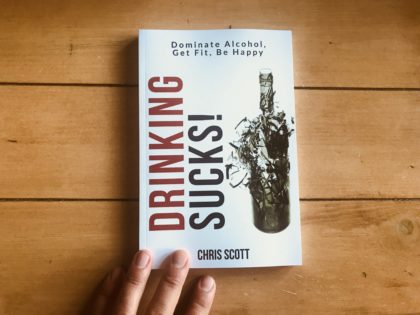 Everything You Want To Know About DOMINATING Your Drinking Problem But Were Afraid To Ask.
Alcohol addiction is a puzzle...Don't wait until it's too late to fill in the missing pieces.
You're smart, driven, educated – way too intelligent to drink the way you do, right?

You've tasted success, you know what it feels like to be fit and healthy, and still you keep sliding back into heavy drinking.

You know that you have to solve your drinking problem eventually.

You feel young but you secretly know that you're not living up to your real potential.

You fear that drinking will keep you from realizing your dreams.

And you know that you have to get it under control before it chips away at your vitality, your relationships, and your vision for your life.
If it sounds like I'm reading your mind, it's because I've lived in your shoes.
I know how much it sucks to feel like drinking is your only relief and the bane of your existence.

You want to cut down, or you want to quit, but how do you start doing this?

That is the million dollar question.

After beating my own nasty alcohol addiction and studying this predicament for several years, I have some truly revolutionary answers.

Drinking Sucks! is a self-improvement manifesto for heavy drinkers who want to rebuild their lives from scratch.

It's the product of years' worth of epiphanies about quitting drinking, restoring health, and finding life direction.

It sounds cliche, but this book can even help you achieve the body of your dreams.

(It's not that hard once you quit drinking.)

Everything you ever thought was impossible becomes possible the second you take charge of your life.

Listen, I used to be that guy who had an obvious problem and I still thought drinking was the best thing ever…
That's me drinking in 2012…I barely endured my job and lived to drink at night.

Who cares, I thought.

I had achievements.

I had friends.

No one could tell me anything.

But I was hiding how horrific I felt before work…
I was exhausted all day and I spent all night trying to drink ONLY two bottles of wine…

I started thinking about drinking at 5 PM, then 2 PM, and eventually, as soon as I woke up in the morning…

Soon enough I gave up trying to moderate my drinking entirely.

I gained 30 pounds within a few months.
The health consequences of all that poison started catching up with me.

And then I hit rock bottom REALLY hard.

If I'd known then what I know now, I would've saved myself THOUSANDS of dollars wasted on alcohol.

I also would've saved countless hours on treatment methods that don't work
My results are visible, even though the best rewards are internal, and I can help you get the same transformation.
I'm not a doctor, a psychologist, or a 12-step follower.

I'm a normal guy who left the rat race on Wall Street…

And channeled all of my new energy and brainpower into connecting the dots about alcohol addiction.

I was appalled to learn that conventional treatment has a 90% failure rate…
And I thought that there had to be a better way, one that isn't depressing and ineffective.

After a few years of independent research, I discovered what separates the success stories from the chronic relapsers…

The first thing I did was ensure that I became one of the success stories…
The second thing I did was compile EVERYTHING I learned so that I could help people like you.

In Drinking Sucks!, you will get the secrets to dominating addiction forever in less than 200 pages of life-changing practical guidance:
In Drinking Sucks!,
You Will Learn:
What People Are Saying
About Drinking Sucks!
"I've just read the whole thing - OMG. Best thing I've ever read on freedom from drinking. And I love your phrase 'dominate addiction.' I also loved the way I felt empowered and drawn to reuniting with my life, without the heavy focus on deprivation that always scares me off."
"I have read many books on how to quit drinking and all had pieces of the puzzle. Chris Scott's book was the first one that really put it all together for me. It is a book about drinking but it is much more. Chris' book walks you through all the elements that need to come together to not just quit drinking but to thrive. I can't say enough good things about this book!"
"Read half of the book last night. It's the best book on the topic I have ever read. I'm so stoked to finish it tonight. Also, I'm treadmill texting right now...Then pilates. Just sayin'."
"Dear Chris: I just wanted to write and thank you for creating your website and writing your book. I've been trying to stop drinking for 30 years. I have done so much research and tried so many methods...I finished your book and truly think a life without wine is possible for me."
"Chris, a friend gave me your book and I found it to be the most helpful, motivating tool I have received. Easy reading and hitting very close to home! I'm struggling to connect with the AA meetings as I find them depressing. You made me (through your own words in your book) start working out, eating better and taking healthy supplements. I'm only 30 days sober, but I feel that your inspiration through your book will make me succeed through this challenge and change my life for the better! Thanks again Chris!"
"Last beer for me was 28th Jan and I have used your techniques, advice and 'warnings' on withdrawal to keep at it. Gotta say, apart from sleeping issues, which are getting better, I am smashing it. Moving forward I will take the no alcohol route past the end of Feb and make a lifestyle change. My personal trainer and all those around me (that matter) have been mint, with my PT particularly taking me to another level training wise. Amazing how much better I can actually feel in such a short time. I have taken the approach that I don't want to poison my body and will train hard and eat/supplement well moving forward. I wish to be that bloke that doesn't drink and looks after himself moving forward.

You have supplied me with many tools and a better understanding of our bodies and the effects alcohol has on it.....poison! Thanks again Chris and all the best to you."
"I recently just read your book Drinking Sucks, and I have started taking most of the supplements and vitamins recommended. It has been so disheartening to have this problem, and I always knew going to AA or rehab or therapy would not fix it. I have always been very independent, and unsatisfied with my circumstance. I know deep down I am here to do great things, but never feel like I have found those things. I can feel that I am so close to where I need to be, but alcohol seems to be that barrier between me and greatness. (By the way, I don't say greatness as a conceited thing. I believe everyone is or can be destined for greatness, we just have to constantly work on ourselves and do the things that we are passionate about rather than what society tells us is necessary.) Being someone who doesn't go asking for help, maybe I should more....

I am truly grateful I have found your book. Last night I felt better than I have in a very long time. It gives me something to look forward to rather than just adding days to my calendar. Sorry for the very long email, but I thank you for your desire to want to share what has helped you with others in an effort to reach more people. Alcohol is a very scary and unfortunate drug that society has put a mask on to give the illusion that it will make your life better. Growing up with it and experiencing it myself it is something that I want to change the idea on even if it is just with me and making an example for my kids. At the end of the day I want them to see me happy and making good decisions that will start a legacy for generations to come. They are my "why" and they deserve to live the best life, as do I. To that I say "Drinking Sucks!"
Did you know that intelligent, high-functioning problem drinkers have the hardest time quitting?
If this is you, stop blaming yourself right now.

No one can blame you for refusing to sit in depressing support group meetings for the rest of your life.

If you're like me, you're determined to tackle your problems once and for all, not continually declare powerlessness over them.

You have a hard time relating to sad and uninspiring stories.

Don't wait until you can relate to them.

You don't have to let yourself hit rock bottom and then declare that you're an alcoholic forever.

You don't have to set your sights lower or settle for mediocrity because you think you have an incurable condition.

Drinking Sucks! can help you to finally understand WHY you drink the way you do.

And it lays out the steps you need to take charge of your life, right away.

Stop feeling guilty, stop draining your willpower, and stop thinking that there's something deeply wrong with you that means that you'll never be able to thoroughly enjoy life again.

Look, I'm not the first to point out that the status quo in addiction treatment is deeply flawed.

But I'm living proof that another way out of alcohol addiction – a more proactive, more empowering, more effective, and more exciting way – is 100% possible.

And now it's within your reach.
CLICK THE BUTTON
BELOW TO GET YOUR
COPY TODAY!
Take Charge Of Your Life
For Only $14.97
100% Satisfaction Guaranteed
100% Satisfaction Guarantee
You are fully protected by our 100% Satisfaction-Guarantee. If this book doesn't help you quit drinking and take control of your life, email [email protected] within 60 days of purchase and we'll send you all of your money back.
Chris Scott
Author of
Drinking Sucks!
Chris Scott founded Fit Recovery to help people from around the world dominate alcohol dependence and optimize their health. Chris is in his 5th year alcohol-free, and he's personally helped thousands of people quit drinking, optimize their health, and build their best lives.

A Professional Member of Alliance For Addiction Solutions, Chris has dedicated nearly half a decade to studying alcohol recovery, natural supplementation, and fitness.