In line with my goal of illuminating the full range of alcohol recovery methods, this article will focus on acamprosate alcohol treatment. Acamprosate is a prescription medication that is used to help alcoholics manage post-acute alcohol withdrawal syndrome (PAWS).
The FDA approved acamprosate for alcohol dependence in 2004. This makes acamprosate the newest of the three FDA-approved medications for alcoholism (the others are disulfiram and naltrexone). Acamprosate is sold under the brand name Campral Delayed Release Tablets.
Many people receiving acamprosate alcohol treatment report a reduction in post-acute withdrawal symptoms, including:
Restlessness
Insomnia
Anxiety
Alcohol cravings
Even though acamprosate for alcohol dependence has been approved by the FDA, many alcoholics are unaware of this medication. I once fell into this category myself. When I finally quit drinking, I was clueless and even misinformed about my options for excising alcohol from my life.
We will now proceed to explore acamprosate alcohol treatment, including pharmacology, dosage information, research studies, and alternatives to this medication.
Overview of Acamprosate
Acamprosate may help to ameliorate post-acute withdrawal syndrome, with a notable impact for some people on anxiety and alcohol cravings. It does this by stabilizing brain chemicals involved in alcohol withdrawal.
Acamprosate for alcohol dependence is typically prescribed for 3-12 months following the cessation of acute withdrawal symptoms. This sets it apart from anticonvulsants (e.g., benzodiazepines) that are prescribed to prevent complications during acute alcohol withdrawal.
In Europe, acamprosate for alcohol dependence had been used with apparent success for decades before it was approved in the U.S.
In contrast to naltrexone, which blocks the pleasure that drinkers obtain from alcohol – or disulfiram, which causes nausea when alcohol is consumed – acamprosate relieves the intense sensation of stress that leads many alcoholics back to the bottle.
There is evidence that acamprosate works best for people who are committed to abstinence from alcohol. However, people who "slip" while taking acamprosate for alcohol dependence are usually advised to continue taking the drug.
How Does Acamprosate Work?
While scientists still do not fully understand how acamprosate alcohol treatment works, it is thought that acamprosate reduces glutamate activity in the brain.
Glutamate is a "stress" chemical that is suppressed by chronic alcohol use, and which rebounds to potentially dangerous levels when alcoholics attempt to quit cold turkey.
Acamprosate may also modulate GABA activity, possibly indirectly through its action as a glutamate antagonist. GABA is the brain's primary "calming" chemical.
In order to understand why this matters, it's important to remember that alcohol mimics GABA (calming the brain) and suppresses glutamate (reducing stress). Alcohol withdrawal involves the opposite effect, which is also two-pronged: a lack of GABA and a surge of glutamate.
In the absence of alcohol to calm down the brain, the alcoholic feels hyperactive, hypersensitive, and panicked. Many of the symptoms of alcohol withdrawal are caused by a lack of GABA and an excess of glutamate.
In the short term, benzodiazepines that stimulate GABA receptors are often used to resolve this chemical imbalance. However, benzodiazepines can lead to rapid tolerance and addiction. Acamprosate is thought to be more useful for long-term management of symptoms when this brain imbalance persists.
Acamprosate Dosage
The following dosage information may be useful if you are considering acamprosate alcohol treatment:
A typical dose of acamprosate for alcohol dependence is 666 mg, three times per day.
The brand name Campral comes in tablets of 333 mg, meaning that two tabs are often taken at once.
The duration of acamprosate alcohol treatment is usually between three months and one year. (source)
Only a doctor can determine your correct dosage depending on your situation.
Acamprosate may have interactions with other drugs, but there is no current data on these interactions.
Acamprosate does not cause an unpleasant reaction when consumed with alcohol.
Acamprosate for alcohol dependence is often taken on its own or in conjunction with benzodiazepines for alcohol withdrawal.
Because everyone is biochemically different, some people do not respond well (or at all) to acamprosate alcohol treatment.
Because acamprosate is not processed by the liver, it may be suitable for people with liver disease. However, because acamprosate is excreted by the kidneys, it should be avoided by people with severe kidney problems.
Before taking acamprosate for alcohol dependence, make sure to review the following:
Research Studies
A number of studies support the use of acamprosate for alcohol dependence:
In addition to the above research on acamprosate alcohol treatment, the following passage from the scientific literature is worth considering:
Discrepancies [in acamprosate's effectiveness] may be mediated by genetic differences in the populations examined. For example, exciting emerging evidence suggests that alcohol effects are altered in mice carrying various mutations of the glutamatergic genes (see review by Gass and Olive 2008). If the effects of acamprosate are indeed mediated through this glutamatergic system, it would be worth examining these genetic markers as mediators of treatment response. Finally, patient-specific treatment matching also may enhance acamprosate's efficacy. Evidence from a pooled analyses of seven European trials suggests that alcoholics with increased levels of anxiety, negative family history, and late age of onset of alcoholism, as well as those who are women, may benefit from this medication (Verheul et al. 2005). (emphasis added; source)
Acamprosate Alternatives
Not everyone can obtain acamprosate, since it must be prescribed by a doctor.
Besides benzodiazepines, which are the most commonly prescribed drugs for short-term alcohol detox, there are a few other alternatives to acamprosate alcohol treatment.
You can read some other articles on prescription medications for alcohol withdrawal and alcohol cravings here:
We will now proceed to review supplemental and/or natural alternatives to acamprosate, all of which I have tried for myself.
I can personally attest to the effectiveness of these supplements for helping to eliminate the lingering effects of post-acute alcohol withdrawal.
L-Theanine
L-theanine is a naturally occurring amino acid that is responsible for the zen-like calming effect of green tea. Studies have shown that when L-theanine is isolated and consumed in supplement form, it can help to induce relaxation by blocking glutamate receptors.
You might be thinking…This is remarkably similar to the action of acamprosate! As an amino acid, however, L-theanine is significantly less potent.
Still, L-theanine definitely has a noticeably effect. I occasionally use L-theanine after stressful days to help me unwind.
I discovered this amino acid while I was still experiencing post-acute withdrawal, and it helped tremendously at the time. Others have used L-theanine for mild to moderate alcohol withdrawal as part of a natural regimen to help them quit drinking.
I've had great experiences with Suntheanine, which can be purchased either as chewable tablets or more potent gel capsules coated in coconut oil (shown below).
Phenibut
Phenibut is a legal supplement that is remarkably similar in structure to GABA. It is known to:
Calm the nervous system
Aid in sleep
Boost mood
Alleviate social anxiety
If you cannot obtain medications for alcohol withdrawal, you can use phenibut to ease mild to moderate symptoms of alcohol withdrawal at home.
For a full description of how this might be done including dosage information, see my article on using phenibut for alcohol withdrawal.
Note: Phenibut should be used with care and for a short duration only (less than a week) because tolerance can build quickly and dependence can occur.
I have used phenibut from Absorb Health for situational discomfort (especially air travel) on several occasions, with very powerful results. I absolutely love this company because its phenibut is 100% pure and very reliable.
It can be very difficult to find a quality vendor for effective legal supplements like phenibut and kratom. The difference in quality between vendors is a frustrating reality. This is why I promote only the best supplements and vendors on Fit Recovery.
Calm Support
Before I explain how Calm Support works, let me make one thing clear…
Nearly a year after I quit drinking, I finally understood that the majority of my post-acute withdrawal symptoms were caused by prolonged alcohol exposure.
I finally ended my post-acute withdrawal symptoms (including alcohol cravings) by doing a lot of research and spending a lot of money on herbs, vitamins, and minerals.
Calm Support is an ingenious collection of high quality nutrients and herbs that are very effective for alcohol withdrawal. These ingredients cost a lot of money when purchased separately:
B-Vitamins – Highly depleted by alcoholism and necessary for energy and cognition
Vitamin C – Restores cellular health damaged by alcohol consumption
Magnesium – Supports relaxation, sleep, and nervous system functioning
Zinc – Restores the immune system and hormonal balance after alcoholism
L-Tryptophan – Amino acid that helps with relaxation and sleep
NAC – Amino acid that detoxifies the liver and the lungs
Valerian Root – Herb that reduces insomnia
Phyllanthus – Herb that detoxifies the liver
Mucuna Pruriens – Herb that restores dopamine in the brain
L-Theanine – Amino acid that improves anxiety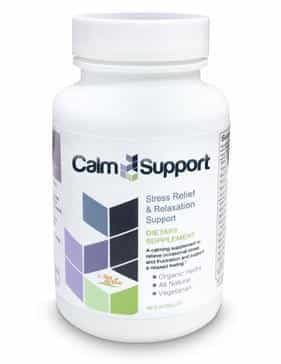 Many people have been able to quit drinking using Calm Support along with external support and basic lifestyle improvements.
Nutritional Repair
After getting through acute alcohol withdrawal, it's important for alcoholics to determine what lifestyle changes will reduce alcohol cravings and repair their bodies.
Nutrition is one of the most neglected pillars of alcohol recovery. After excising toxic ethanol from your life, you can maximize your sense of well-being by optimizing what you put into your body. This includes eating well and taking supplements to repair nutritional deficiencies.
Conclusion
I believe that people with alcohol disorders deserve to know about all of their options for changing their lives for the better, including acamprosate for alcohol dependence.
There is no one-size-fits-all approach for alcohol detox and recovery.
When I quit drinking, I was not informed about nutrient repair, pharmacological support, or holistic strategies for improving my quality of life.
My goal in writing articles such as this one is to empower you to have a much better grasp on your situation, and your options, than I did when I quit drinking.
If you have any questions about acamprosate alcohol treatment, please leave them in the comment box below.